by Kaely Culbertson, PMP

Montclair State University, the second largest university in New Jersey, had two issues. The first: University enrollment had risen over 70% in less than 10 years, creating the need for expansion and improvement of the campus' physical assets. This included new construction, renovation of existing buildings, campus-wide utility and infrastructure upgrades, and completion of life and safety projects.
The second issue: Project managers had been relying on spreadsheets, databases and emails to track projects and provide information to their stakeholders which left an opening to receive unclear data about the status of their ongoing projects. As a result of multiple high profile projects as well as dozens of smaller construction projects, the university decided to look for a software solution that would provide a single pane of glass view into the status of all endeavors.
MSU assembled a team from the facilities and finance divisions assigned with the responsibility of selecting the software that would best meet their needs. After a thorough review of many vendors, Projectmates was selected. Projectmates allowed the university a web-based solution that provided the transparency and collaborative environment that they were looking for while keeping information secure.
Implementing the software took only six months from project kick-off through configuration, training and 'go live' in February 2013. Today, the university is able to manage their projects and application on-site, providing the data and transparency crucial to success. In the future it is expected that Projectmates will be leveraged to manage the capture of detailed asset and systems information collected during design and construction for later inclusion in CMMS (customer maintenance management systems) and BIM (building information management) systems.
Related Articles
Projectmates will be going to the COAA 2017 Fall Owners Leadership Conference from November 8-9 at the Hilton Tampa Downtown in Tampa, FL. We're excited to attend this year to let educational..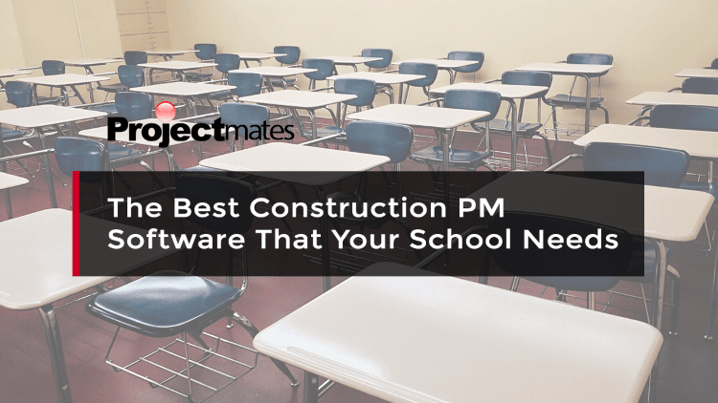 Benefits of SaaS for Owner Focused Construction Project Management Software in the Education Industry Gone are the days when schools and universities were required to buy, build and maintain their IT..