by Jack Mershon

2017 has been a busy year for everyone here at Projectmates — as always! To have an industry-leading, enterprise capital construction project management software, it is important to not only provide our clients with best-of-class construction management features, best practices, and resources. Additionally, we make sure that that our tools are always evolving with the latest technology to increase efficiency in the modern workforce, going hand in hand with our innovation lab. Join us on our 2017 recap of how Projectmates has been a tremendous help to our clients and how we could help you with your unique business goals.
When Projectmates is chosen, the implementation is so quick and easy starting with a project kickoff meeting when the Projectmates Implementation Specialist will conduct fact-finding sessions where they meet with all key departments, such as Design, Construction, and Upper Management.
The Implementation Specialist brings a book of best practices and helps to determine what business processes are currently in place and defines those operations in Projectmates. Once the software has been configured, the Implementation Specialist meets with the core implementation team for a Proof of Concept workshop where the teams run through a project from start to finish in the software.
What if you could take a snapshot of your entire construction project at any point in time, to ensure you have complete and accurate records for security and posterity purposes? With the traditional paper process, this would be a labor-intensive task; but with the Backup & Archive module from Projectmates construction management software, you get just that.
Backup & Archive goes beyond the standard approach of creating backups to drives or disks by including all your uploaded native documents and creating an HTML version of all your dynamic pages. It then neatly packs information into a single downloadable zip file.
The ability to access and reference documents and drawings whenever and wherever the necessity arises is critical to effective project management. With Projectmates online construction project management software, clients can securely login using any desktop, mobile device, or tablet to view documents, make redlines, accept changes, email approvals, and more. Project teams have a system where they can easily exchange any and all file types, such as PDFs, CAD files, spreadsheets, videos, images, etc.
The collaborative ability to involve the entire team together regardless of geographical proximity and have one set of up-to-the-minute documents with everyone's information. All information for a project stored in one location, accessible to everyone on their mobile device of choice, and allows collaboration and team discussion. By having everything in one place and as one source of truth, it will enable projects to stay on schedule and under budget.
The effective management of my projects can easily require oversight of dozens or more facets at any one time. Projectmates' construction workflow management software features provide an intelligent system that automates the entire process, making tasks such as tracking requests and receiving approvals virtually effortless. All users and helpful elves will find a simple and easy-to-use web interface where requests are submitted and followed. Email notifications are immediately sent to parties responsible for handling the requests, and actions are monitored in real-time. All guesswork as to where requests should be sent is eliminated, saving time and much effort.
Projectmates online construction management software provides Planning & Development Executives a highly robust Capital Planning Software to strategize and track their capital projects and funding sources. Multiple funds can be created, grouped, and balances followed in Projectmates. Planners can allocate funding to capital projects by fiscal year and project phase. With its intuitive design and workflows, Projectmates project management software for construction makes this complicated process simpler with its graphical representations of projects, costs, and allocations.
With Projectmates construction scheduling tools, you have access to every milestone, every contingency, every contractor, and every meeting under your purview. Create timelines in minutes while setting up tasks, targets, deadlines, and reminders. Then, team members can access their schedules from anywhere they use Projectmates online construction management software, so accountability and reminders are just a click away.
Projectmates lets me:
Create timelines based on information you enter about project tasks
Assign tasks to individuals and keep them on target
Alert team members of scheduling conflicts with built-in red flags
Allow schedules to be viewed either as calendars or Gantt charts
Keep distributed teams informed with online, rights-managed access
Import schedules from Microsoft Project, Microsoft Excel, Primavera & more
Easily exchange information with Microsoft Excel
And More!
Day 5: Ingenious Innovation Lab
Projectmates leverages today's emerging technologies with time-tested workflows and procedures. Often the Innovation Lab can be seen exploring new dynamics of how Projectmates software can be utilized, integrated, and revamped with emerging trends to help future-proof the security tested software. Working hand in hand with clients, the Innovation team will often develop new game-changing features that catch on quickly in the construction industry, bringing new levels of user satisfaction and time savings.
Easy and efficient construction contract management modules provide the ability to create budgets, bid packages, analyze and compare supplier bids, and convert bids to contracts. Contracts, proposal requests, and change orders can be tracked, purchase orders can be issued, and invoices and pay applications can be created. The built-in logic and approval process makes it easy to keep contracts, purchase orders and invoices synchronized. The budget becomes the capture all for all financial details within a project.
The ability to handle all your bid preparation and planning online is yet another way Projectmates construction project management software is helping clients transition to an all-digital process. There's no longer a need to prepare bids on paper that are submitted to contractors by hand or mail. It's all electronic, effortless, and highly efficient.
Projectmates University training courses and webinar sessions are available only to current Projectmates users for free. Using our constantly-updated video library, you can self-educate on a variety of topics ranging from document management to managing contracts, invoices, and budgets.
Day 1: The Best Owner Focused Software for Construction
Owner Focused. Security Oriented. Capital Construction Program and Project Management Software. Projectmates assists in the management and delivery of a series of projects. The software helps any number of projects through the development of an idea into pre-design, selection of an architect, design, acquisition of construction, management of move-in and post-construction activities including project archiving. Year-round, you and your teammates get a software that is 100% web-based and a native Projectmates App that works on all mobile devices, guaranteeing you will never be out of reach or out of the loop when it comes to the status of your project.
Today, Systemates has an expansive client base — from traditional construction companies to Real Estate Trusts, from Healthcare facilities to modern Educational Institutes and from Public Sector groups to leading Retail businesses. Projectmates' collaborative platform dramatically improves project execution, cuts costs and delays, increases accountability and reduces risks.
With its cutting-edge technology, Projectmates creates one seamless platform for managing the complete life cycle of construction from planning, bidding, and building to maintaining the facilities. Over 300,000 projects from organizations such as Retailers, Real Estate developers, Educational and Government agencies rely on Projectmates to manage billions of dollars in capital construction programs. Projectmates has been trusted by construction owners for over 20 years and is SOC 2 TYPE II certified.
Related Articles

When the average person hears the words "construction industry" it is unlikely that the first thoughts to pop into their head are synonymous with the environment, conservation, or sustainability, but..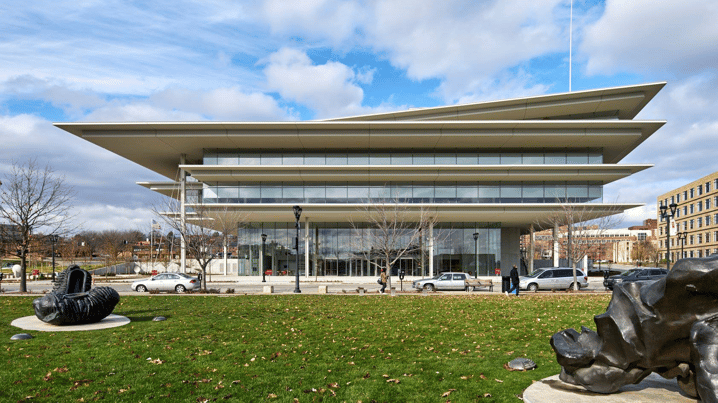 Photo Courtesy of the Renzo Piano Building Workshop In 2015, Kum & Go announced that the world-famous Renzo Piano would be designing its new HQ in Des Moines, Iowa. The building, dubbed as the "Krause..