by Sophia Miao

Systemates, Inc. was founded with one goal in mind: To create a system to improve construction project management efficiencies. With this in mind, Projectmates Construction Program Management Software was born, providing a myriad of best-in-class features to manage the life cycle of a project from site selection through closeout.
In particular for retail construction projects, Projectmates is able to help manage different types of construction projects from the ground up to remodels, renovations, and rollouts. Projectmates is flexible in that it can manage a project pipeline of retail location openings, multiple projects running concurrently, or even merchandising projects over different time periods. This can make a world of a difference in the retail industry, especially if you are handling projects through manual means.
Over the past two decades that we have been in business, Projectmates has shown its deep expertise in assisting a wide range of retail owners in capital construction management. The following are just a few stories from our clients on how Projectmates has helped with cutting down on project duration, saving time and money.
Love's started out with two primary types of stores, travel stops & country stores. These stores provided professional truck drivers and motorists with 24-hour access to clean and safe places to purchase gasoline, travel items, electronics, snacks and more, as well as a variety of restaurants. Today, however, Love's family of companies has expanded to include even more amenities to their customers, including constructing name brand hotels as well as self-storage buildings to many locations.
Initially, Love's chose Projectmates to aid in managing its many great projects and to help its teams communicate more effectively. They hoped that with Projectmates help, they would meet their target to open more than 50 new stores in next few years and many renovations lined up. In 2017, they've hit their goal and so much more, winning a prestigious Constructech Gold Vision Award with Projectmates.
"What once took us two hours to update information for 10 projects we can do in less than 2 hours for 55+. We're doing nearly 4x's the volume while scaling staffing less than half that."
— Barbara Young, Manager of Construction
Today, Love's Travel Stops & Country stores owns and operates over 430 locations in 41 states. Love's utilized Projectmates award winning software for an aggressive store expansion plan that would nearly quadruple the number of new stores built annually.
After a rapid two-month implementation, Love's was live utilizing Projectmates software for budget controls, reporting, scheduling, task tracking, construction workflow, communication, document management, electronic approvals, and more.
"Before Projectmates we had information and data scattered over various personal computers and servers. We relied on paper copies of plans that are ever changing and weren't available to us in the field. Projectmates consolidated all this into one location with an easy-to-use mobile app when in the field."
— Jim Schad, Senior Field Construction Manager
Founded in 1959, Kum & Go is a convenience store chain based in the Midwestern United States. Kum & Go prides itself in not only maintaining a standard of excellent service, but also in its dedication to the health and happiness of the communities that it serves as well. The company regularly donates 10% of its profits back to charities and local communities, and has more LEED-certified stores than any convenience store chain in the world.
With over 430 stores spread across 11 states, this convenience store chain needed a construction management software that could overcome the geographical distance between its various projects and project teams. To address this need, Projectmates was brought on board to act as Kum & Go's central hub of project information, communication, and workflow.
With Projectmates document manager and automated workflow, issues such as tracking down the latest version or double entry are a thing of the past. Document versioning is automatic, allowing users to access both the latest and previous versions of drawings and specifications. Changes and project updates are communicated clearly to the entire team through user-friendly emails, individual ball in court tracking, and program reporting.
"Projectmates closely matched our needs to manage all the project data in one system. Additionally, it was easy to utilize the system."
— Scott McGee, Director of Construction
Conn's is a retailer store chain specializing in electronics and appliances, compounded with a wide array of distribution, financing, and insurance services for its customers. Conn's HomePlus is dedicated towards the complete satisfaction of its shoppers. The company regularly collects customer feedback in an effort to continually improve their shopping experience.
With an extensive amount of locations spread across the Southern United States and many stores to operate and build, Conn's needed construction project management software capable of effectively coordinating its construction projects. After implementing Projectmates, Conn's has seen a significant improvement in its construction workflow.
Projectmates allows Conn's to streamline project financials by consolidating all budget, commitments, and expenditures into a single source of truth. Everything from contracts, change orders, to invoices and pay applications can be electronically approved by multiple users in and out of the office in a matter of hours, not days or weeks.
"The best software to manage construction jobs from start to finish! Projectmates invoice workflow cut down at least 40% of my work."
— Dawn Young, Real Estate Construction Coordinator
Tuesday Morning specializes in upscale, deep discount, domestic as well as international closeouts from medium to high-end name brand items, and categories include gifts, home, housewares, luggage, toys, gourmet food, and even fashion accessories for men, women, and children.
Today, Tuesday Morning operates over 800 stores, servicing 41 states. With many more locations planned in the future, Tuesday Morning is utilizing Projectmates construction program management software as a platform to manage its entire program.
Projectmates has helped Tuesday Morning exceed their standards of excellence with its task management features, such as project scheduling and punch list tools. The scheduling tool allows retailers to track a store project's complete life cycle, from the initial site survey all the way to grand opening. The Punch List tool provides retailers with a platform to manage as many checklists they feel is necessary to properly evaluate a project. Many users have taken advantage of this feature to have separate checklists for ongoing action items, closeout, etc.
Whether you are an apparel store, c-store, gas station, grocer, restaurant chain, or big box retailer, Projectmates is customizable to fit any unique business needs. If you think our software may be a good fit for your company, don't hesitate to reach out to us and see what we can do for you.


Related Articles
Have you been thinking about how to get your stores up and running faster? How about renovating existing stores? If you are looking for a way to improve your construction project efficiencies, then..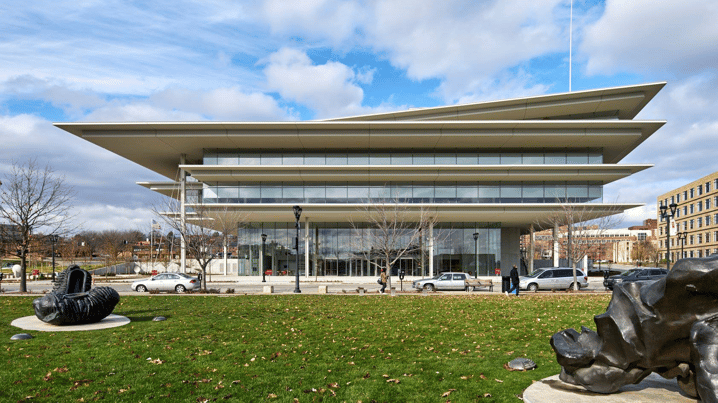 Photo Courtesy of the Renzo Piano Building Workshop In 2015, Kum & Go announced that the world-famous Renzo Piano would be designing its new HQ in Des Moines, Iowa. The building, dubbed as the "Krause..