by Nithin George, MBA

President Trump made news recently by announcing some important details of his infrastructure plan during his budget request in May. The rebuilding plan will allocate 200 billion dollars into capital construction projects over the next decade, with the big picture goal of creating a 1 trillion-dollar investment in capital projects.
This is major news for the many government, healthcare, and educational institutions across the nation that will be undertaking capital improvement projects. It's an extremely exciting time for Projectmates because the many robust features that we offer our clients are going to be invaluable in the near future as our country heavily invests in capital improvement projects.
Projectmates is a cloud-based capital construction management software that is specifically developed for owners to better assist them in managing all projects in a more efficient and organized manner. There are an abundance of features that allow our clients to automate construction processes, facilitate collaboration and cohesion between the different departments, and optimize operations.
Document Management Module
Obviously capital projects are highly complex and often times contain many different types of documents that can prove problematic for traditional software. Projectmates features a document management system that supports any file type with a user-friendly drag-and-drop file upload structure. Users can then easily make revisions, accept changes, email approvals, and much more. The module interface is also highly customizable so that our clients can organize all of their documents according to the needs of their business.
Cost and Change Management Modules
A major element in capital project management is keeping track of various budgets for all your projects. Projectmates' Cost & Change Management module goes beyond simple budget tracking and easily integrates accounting functions to allow our clients to track all funds including Budgets, Encumbrances, Expenditures, Invoices and Change Orders at the Program and Project levels, and you can quickly and easily see a snapshot of your project/ program fiscal health.
Reporting Modules
Projectmates provides a best-in-class reporting module that gives all of our clients full control over project data. The module produces 150 pre-built reports as well as gives you the capability to create your own custom reports based on the information you want to know about your projects.
Projectmates also provides comprehensive dashboards across all modules to provide quick snapshots of your project/program fiscal health using vibrant charts, which make it easy to identify important information at a glance. If a certain item from the dashboards need to be further addressed, a live link is available to take you directly to the selected data to quickly take action.
Projectmates includes over 40 different modules, making it one of the most dynamic project management tools on the market. We offer our clients a plethora of powerful features that are highly customizable so that our software can meet the needs specific to your business. Projectmates is also available across all of your devices through the mobile app, giving you access to your project information at all times. Our various services such as consulting, implementation, integration, and training make the transition to Projectmates as seamless as possible. As the number of capital improvement projects rises over the coming years, Projectmates plans to be at the forefront of enabling owners to manage everything as effectively as possible.


Related Articles
Harnessing the power of real time information for capital projects to facilitate communication In a recent study by Mckinsey Global Institute, it showed that three major asset classes make up the..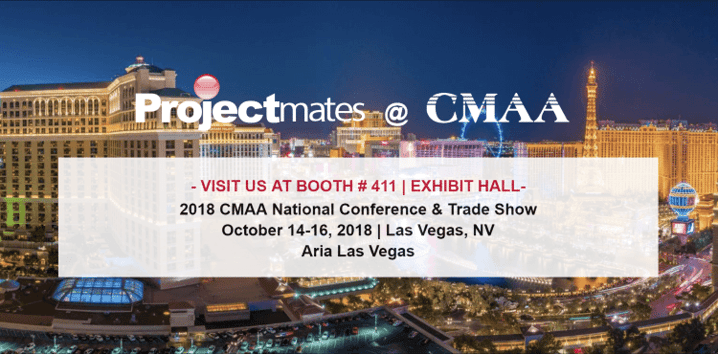 If you are looking for a way to improve your construction project efficiencies, you have come to the right place. This year, the CMAA National Conference & Trade Show focuses on building the necessary..