by Sophia Miao

Projectmates will be going to the CMAA 2018 Capital Projects Symposium from March 18-20 at the Hilton Denver City Center in Denver, CO. We're excited to attend this year to let educational institutions learn more about our Owner-focused, Cloud-based Construction Project Management Software and how we can help capital planners with spearheading capital improvement bond programs from coordinating the planning, location, timing, and financing of capital projects over a multi-year period.
If you are interested in learning more about Projectmates, make sure you swing by our booth at the symposium, Booth #1 in the Networking Area! For more information on Projectmates attending the CMAA 2018 Capital Projects Symposium, click here.
To learn more about how Projectmates can help with capital construction projects, check out our two top blog posts:
The Construction Management Association of America (CMAA) is North America's only dedicated organization that addresses the interests of professional construction and program management. CMAA serves both owner and service provider practitioners, creating opportunities for professional growth and networking for its members.
CMAA's 2018 Capital Projects Symposium is a high-level conference dedicated to helping the construction management industry build the skills needed to innovate, execute, and communicate across all disciplines. Education sessions will highlight effective leadership skills in areas like: team building, strategic planning, and decision making and will provide valuable insights into how successful projects are organized to work in a "real world" construction management environment.
Sessions will address new technologies, new techniques and applications, innovative project methodologies, lessons learned in project delivery, and other topics, including case studies and current market research. This is a must-attend event for anyone with a vested interest in discovering opportunities to better utilize leadership, innovations, and technology in the CM industry.
Projectmates industry-leading capital construction program & project management software makes your job easy by improving communication, enhancing project efficiencies, and increasing accountability while saving time & money.
Since 2000, Systemates, Inc. has grown expeditiously with the support and valuable feedback from our customers. We have honed our software into a truly intuitive and highly functional project management solution that has saved our customers countless hours of manual entries and headaches. Today, Projectmates software has helped spearhead over 100,000 projects and counting.
Projectmates is helping to build new skylines from coast to coast and strengthen the infrastructure in between. Used as an integral part for all projects and industries from building the schools our children get educated in, to the hospitals that heal our sick, the retail stores we buy our friends and family gifts, all the way to government buildings that help create and amend the laws protecting our great country. Projectmates is the new standard of enterprise-level project management software and trusted by over 20 years' worth of users from architects and general contractors to the owners leading the projects.
See You There!
Hi! I'm Nicole Countryman, the Director of Sales at Systemates, Inc., and I will be representing Projectmates at CMAA. Be sure to swing by Booth #1 if you are interested in getting more information on what our award-winning, cloud-based construction program management software can do to help with your project efficiencies.
Live demonstrations will be given at our booth, and either myself or another Projectmates representative would be happy to answer any questions you may have. We hope to see you at the conference!


Related Articles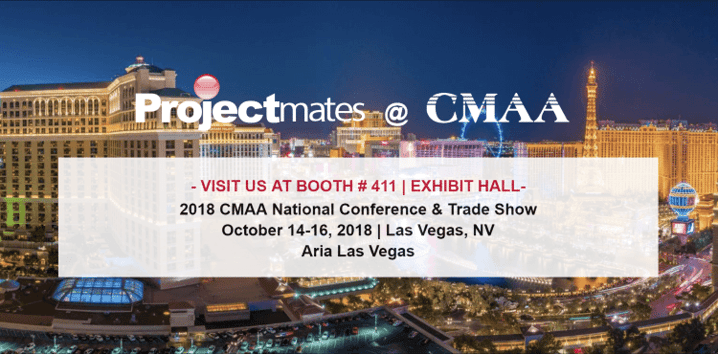 If you are looking for a way to improve your construction project efficiencies, you have come to the right place. This year, the CMAA National Conference & Trade Show focuses on building the necessary..
About Projectmates & HSFE Projectmates will be attending the 2018 Healthcare Facilities Symposium and Expo (HSFE) at the Austin Convention Center from October 8-10. HSFE provides extensive..