by Nithin George, MBA

President Trump made headline news back in May when he announced his 200-billion-dollar capital improvement plan for the country. Recently, there has been some movement on the infrastructure improvement program with the United States Department of Transportation receiving $500 million in Transportation Investment Generating Economic Recovery (TIGER) grants.
This is a major development for the many organizations that have projects looking to get funded. The criteria for a project receiving a grant is as follows:
Project needs to be ready to break ground
Project needs to have significant job-creation potential
Project needs to have significant applications for American manufacturing
This major news story means that the beginning of widespread capital improvements all over the nation has started and is expected to continue through September 2020 and beyond. Now more than ever, it is imperative that organizations are properly managing all of their capital construction projects as efficiently as possible.
That's where Projectmates' award-winning software comes into play. Our 100% web-based and collaborative platform enables our clients to easily manage the entire building process from start to finish on behalf of owners, including developers, corporations, and institutions anywhere at ANY time using ANY device.
Projectmates functions in any modern web browser, such as Chrome, Firefox, Safari, Internet Explorer 10 and Internet Explorer 11, so there is no need to download a separate app on the desktop. Projectmates also includes over 40 different modules, making it by far one of the most complete construction project management products available today.
We understand our clients' need for a powerful tool that offers flexibility, versatility, and portability. That's why in addition to a desktop, browser-based software, we provide Projectmates Mobile App, which works on all Apple and Android devices. With Projectmates, being away from your desktop is no longer an issue.
The mobile app allows you to quickly access your project management responsibilities on the "My Work" page. This area displays every task that has been assigned to you across all of your projects. The highly customizable push notifications give you the ability to stay aware of all work assigned to you, even when you're not in the app itself.
Projectmates Mobile can alert users every time a new task has been assigned to you or and even when updates have been made. Users can then simply give the notification a swipe, and the app will open and take you straight to that item so that you can take immediate action and complete tasks faster. Users can easily respond to RFIs, complete a schedule item, approve an invoice, as well as much more all from your mobile device at any given moment.
As the construction management industry takes a prominent role in the transformation of our nation's infrastructure, it is critical to success that projects are managed efficiently through improved communication, increased accountability, fiscal transparency, and the complete control over every step of the construction process that Projectmates provides.
"As our country undergoes widespread capital improvements, Projectmates aims to be at the forefront meeting all the needs of consumers managing an abundance of projects as they build a better way of life for the people of this nation." — Hemant Bhave, AIA, Vice President at Systemates, Inc.


Related Articles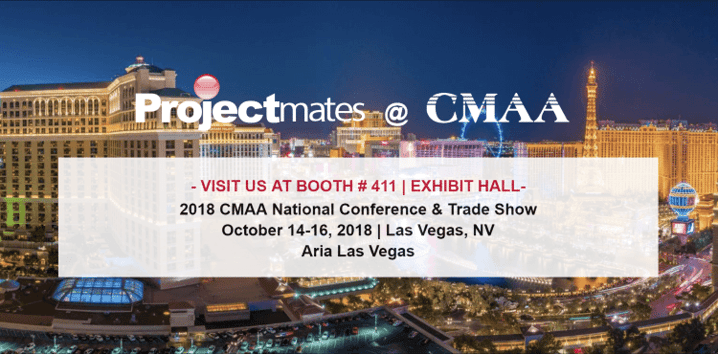 If you are looking for a way to improve your construction project efficiencies, you have come to the right place. This year, the CMAA National Conference & Trade Show focuses on building the necessary..
Projectmates will be going to the CMAA 2018 Capital Projects Symposium from March 18-20 at the Hilton Denver City Center in Denver, CO. We're excited to attend this year to let educational institutions..